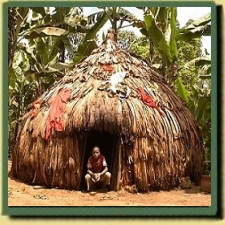 At African Snow your adventure has been thought through from beginning to end. Most trekking companies pick up their clients at the airport, deposit the client in a local hotel and, the very next morning, set out on their summit bid for the top of Kilimanjaro.

After such a long trip where the client has not slept or at least not slept properly for more than a day, has traversed multiple time zones and has been fueled only by the food available at airports and on airplanes, we strongly believe that some rest and good food is a must before ascending the mountain.

Each of our adventures begins with a good nights sleep, plenty of hardy fare and a rest day after your travel. We have low stress, optional activities planned for your rest day or you may elect to simply sit by the pool with a good book.

If you're hiking the Rongai route with us, your first two nights are spent at the Kilimanjaro Mountain Resort

in the village of Marangu. Here you can wonder the village, visit the local market, take a leisurely walk to beautiful waterfalls or make your way to the Marangu gate where you'll bask in the rich history of this trekking destination.

For those of you on the Lemosho route, you'll be staying at the Protea Aishi-Machame hotel. From here we can arrange nature walks, a half day excursion to Moshi or Arusha or a visit to the Machame ("Whiskey Route") gate which is very close by.

On the morning of your third day you'll set out on the core of your experience. And after your descent you'll be whisked back to the hotel where a hot shower and a real bed never felt so good. Or perhaps you could use a massage...we'll arrange that for you too.

We're looking forward to seeing you on one of our upcoming climbs.