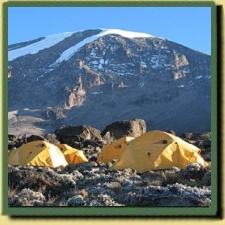 A climb on Mt. Kilimanjaro has three rules: Safety first, Safety second, Safety always. At African Snow Safety is not something we take lightly.

- Our Guides: All our guides are trained and certified with the Park Service. We are constantly attentive to the latest techniques and proceedures as regards the safety of the climbers and the team.

- Adequate Support: We provide three Porters per climber on the routes we use. If extra gear, such as camera equipment, is to be carried extra Porters can also be provided.

- Medical Backup: Moshi, Kilimanjaro is home to one of the leading hospitals in Tanzania...the Kilimanjaro Christain Medical Center (KCMC.) We maintain an open channel of communication with them and we're prepared to enlist the help of the hospital very quickly if circumstances demand it.

- Flying Doctors: If, for any reason, we or the client feels they would be better cared for at another hospital, we arrange for your rapid transport via the Flying Doctors air service.